Your Business In One Picture
When describing your business to a stranger – a customer, a supplier or potential business partner – how do you help your listener to truly get it?
The challenge, like with sales calls or business networking introductions, is that it's easy to launch into explanations that bore the listener with details. That's far from the ideal conversation where speaking and listening are shared, not one-way traffic, and where both sides feel understood.
It takes time and skill to craft an opening sentence or two that gets your listener engaged. So what's the best way to figure out what information matters?
The enterprise context model (ECM) can be a time-saving technique to literally draw a picture of who and what matters to your business. At its core, the ECM is a simple black box of your business that shows the key stakeholders that interact with it.
It's a tool every good business analyst (BA) will know. And because every good entrepreneur is also at least conversant with key BA techniques, this should be a standard tool in every business owner's toolbox.
So why don't more entrepreneurs use it? Anecdotally, I think most people just don't know about it. It's not something I've seen in management textbooks or online literature for entrepreneurs. Also, it's a simple-looking model, so maybe its apparent lack of sophistication is a turn-off?
The thing is, the ECM has immense power in its simplicity and its variety of applications. You can use it to design a new venture or product, review your business strategy, rapidly onboard new hires, or identify the best angle to open a sales call.
Here's how it works in a nutshell: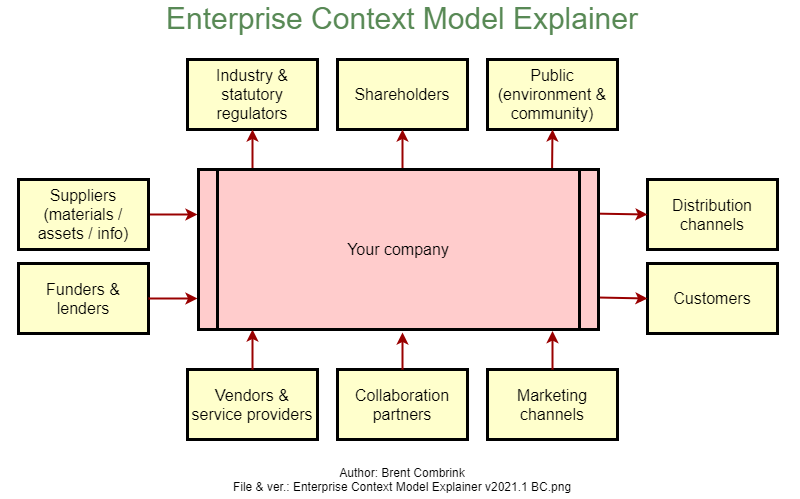 The easiest way to start is to think of a simple linear process model of inputs, throughputs and outputs. Your business is the "throughputs" part, which we show as a "black box".
On the left, we show key sources of inputs and on the right are the targets of our outputs. This picture already tells us a lot. For starters, it directly illlustrates where your business fits in its industry value chain.
Add to this your collaboration and accountability stakeholders below and above the enterprise box. Collaborators are vital in supporting or even outsourcing key processes, while accountability stakeholders are people we need to satisfy for governance, social or economic drivers.
If you start with my template illustrated above, you'd obviously replace each yellow stakeholder box with names of specific players, like suppliers or distribution channels, or at least aggregate each type of stakeholder. You may also want to label each arrow with the specific things that flow into and out of the business.
And that's it. Plain and simple.
Actually, I lie.
The purpose of the ECM is not merely the output of having a picture. I've found time and again that the greatest feature of the diagram is not the diagram, but the conversation in developing it. The process is both conflict-rich and unifying in getting your team on the same page – literally!
And we're only scratching the surface of the ECM's applications. You can integrate it with other business models, like the value chain, process models, capability maps, or the business model canvas. You can use it to strategically surface interaction weaknesses to overcome departmental silos or business-versus-technology barriers.
But even with its most basic use, you'll have a plethora of angles and stories about your business.
Most importantly, the enterprise context model will help you clarify who your key stakeholders are so you can tell each stakeholder just the right story about your business – the story that matters to them.
Get our stories fresh and direct in your inbox. Sign up on our blog page.
(You can unsubscribe any time, no questions asked.)